May 10 2022
Tuesday Morning Report
The weather is all about perspective. The old storm is stalled off the coast and still influencing our weather. It will circle back and bring back the rain and storms by the weekend.
The sky will be clear and with sun combined with a breeze, the result will be a pleasant afternoon. However, that wind will be stronger along the Bay and Delmarva, where a Gale Warning is in place off the ocean coast. The push of water onshore means higher tides and Coastal Flood Advisories.
This Morning…
Temperature
Surface Weather
Low Pressure continues to slowly drift farther Southeast. It will still control the wind flow.
Chilly mornings, afternoons will be pleasant this week.
Wind Forecast
Warnings
Bay Wind And Weather Animations
Click here for Bay Water Animation Forecast Maps
Weather posts straight to your inbox
Sign up and be the first to know!
Afternoon Temperatures
CLIMATE DATA
TODAY May 10th
Normal Low in Baltimore: 50ºF
Record 33ºF in 1983
Normal High in Baltimore: 72ºF
Record 96ºF 1896
wednesday
Morning
Afternoon
Weather Pattern Through Saturday
The slow moving storm off the coast will circle around, and is expected to build back in later in the week. At this time it looks like increasing clouds Friday with showers and storms next week.
Weather posts straight to your inbox
Sign up and be the first to know!
7 Day Forecast
The return of storms will build back Friday through the weekend.
Tropical Season Begins June 1
Atlantic Hurricane Forecast
Related Posts
Atlantic Tropical History: Maps of Origin Regions Every 10 Days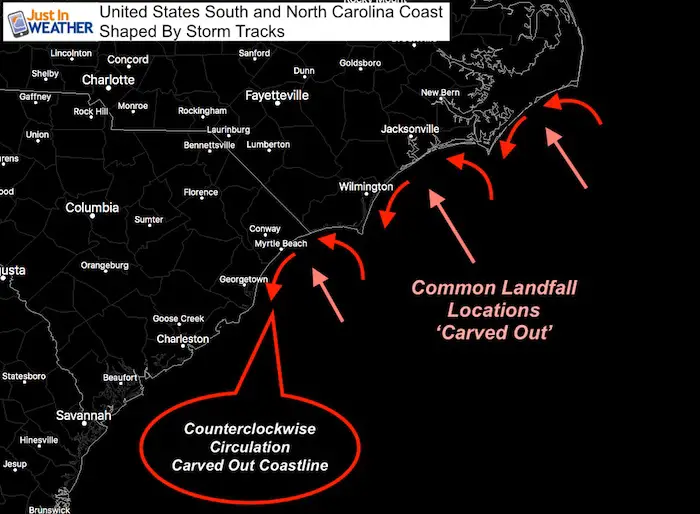 *Disclaimer due to frequent questions:
I am aware there are some spelling and grammar typos. I have made a few public statements over the years, but if you are new here you may have missed it:
I have dyslexia, and found out at my second year at Cornell. I didn't stop me from getting my meteorology degree, and being first to get the AMS CBM in the Baltimore/Washington region.
I do miss my mistakes in my own proofreading. The autocorrect spell check on my computer sometimes does an injustice to make it worse.
All of the maps and information are accurate. The 'wordy' stuff can get sticky.
There is no editor that can check my work when I need it and have it ready to send out in a newsworthy timeline.
I accept this and perhaps proves what you read is really from me…
It's part of my charm.